ABOUT US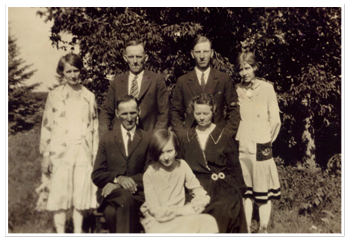 The Olafson family, circa 1924, Gardar, ND, In front Allie, 2nd row l to r Olafur and Sigurbjorg, 3rd row l to r, Katherine, Peter, Kris, Anne.
HME Herefords is a family owned and operated cattle, grain and timber farm located 15 minutes east of Athens, Georgia, home of the University of Georgia. Hardy III, Kim and "Little Hardy IV" are its enthusiastic owner/operators.

The current farm was purchased by Dr. Hardy M. Edwards, Jr. and his wife Aldies shortly after Dr. Edwards was hired to be a Professor in the Poultry Science Department at the University of Georgia in the fall of 1957. Dr. Edwards, a Guggenheim Fellow, went on to have a highly distinguished teaching and research career spanning more than 50 years making him the longest serving Professor in the history of the University.
Hardy Jr. and Hardy III on their way to feed some Landrace pigs, circa 1963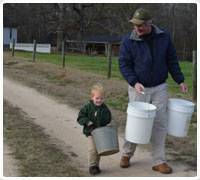 Hardy III and Hardy IV on their way to feed some Hereford cows, circa 2012
Hardy Jr. and Aldies brought Hardy III into the world in March 1961. To say that Hardy III was born with farming in his blood is an understatement. Over the next several decades the farm evolved many times over depending on the interests of the two Hardy's. There were Landrace pigs to begin with followed by the first French Hybrid vineyard in Georgia. Hardy III's first enterprise was truck farming, which lasted from 3rd grade to 8th grade when he discovered he could spend more time on the tractor, and earn more money, growing soybeans and wheat in the mid to late 70's. With falling commodity prices and the droughts of the early 80's crops gave way to a crossbred beef cattle operation. Through the years there was nothing Hardy Jr. and Hardy III enjoyed more than working together on the farm.

Also shaping Hardy III's character was his maternal grandfather, Dr. Peter Olafson. Known as the "Father" of the field of Veterinary Pathology, Dr. Olafson was born in 1897 and grew up on a diversified farm in North Dakota's Red River Valley just south of the town of Gardar. It was a familiar story. Up before dawn to milk the cows, riding horseback to school in sub-zero temps, wood stove, no plumbing, he was one tough hombre . . . . and 100% Icelandic. After graduating from North Dakota State University, Dr. Olafson was admitted to Cornell's College of Veterinary Medicine in Ithaca, New York where he went on to receive a DVM and have a stellar career as a Pathologist.

Dr. Olafson, a member of the American College, was the first to identify and describe both BVD and Hyperkeratosis (X disease) in cattle and in the case of Hyperkeratosis also identified the source as being machinery grease containing highly chlorinated naphthalene.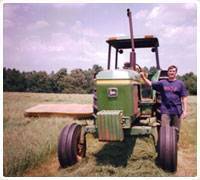 Hardy III cutting Alicia hay, circa 1997
Growing up it was the many Summers, Christmas's and Spring breaks that Hardy III was able to spend with his grandparents on their upstate New York farm making maple syrup, lambing and haying that allowed him to get to know and appreciate what an excellent stockman his grandfather really was.

In the meantime Kim was growing up in the next county south on what at the time was the largest broiler farm in the Southeast, 14 houses with a onetime capacity of 270,000 birds. In addition to the broilers her family raised cattle and hay. Kim also had a particular passion for horses growing up and became, and remains, a very capable equestrian.

Following the passing of Hardy Jr. on Christmas day 2007 a good deal of soul searching was done between Hardy III and Kim . . . and . . . like the Six Million Dollar Man, they decided to rebuild the farm, better than it ever was. The process was cathartic and the result is HME Herefords.